DCC Curation Lifecycle Model | @digitalcuration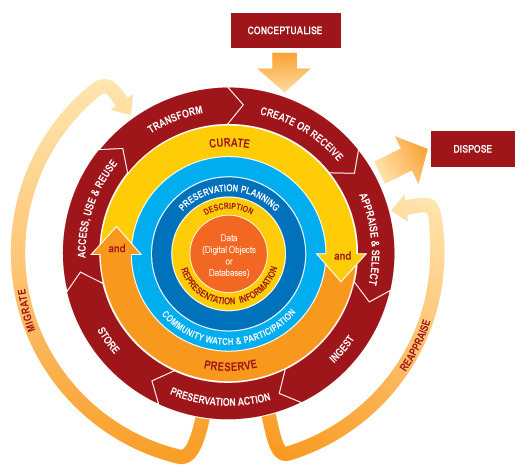 The DCC Curation Lifecycle Model
How to use the Curation Lifecycle Model
This Curation Lifecycle Model provides a graphical, high-level overview of the stages required for successful curation and preservation of data from initial conceptualisation or receipt.
You can use the model to plan activities within your organisation or consortium to ensure that all of the necessary steps in the curation lifecycle are covered.
It is important to note that the model is an ideal.
In reality, users of the model may enter at any stage of the lifecycle depending on their current area of need. For instance, a digital repository manager may engage with the model for this first time when considering curation from the point of ingest. The repository manager may then work backwards to refine the support they offer during the conceptualisation and creation processes to improve data management and longer-term curation.
The model enables granular functionality to be mapped against it: to define roles and responsibilities and build a framework of standards and technologies to implement.
It can be used to help identify additional steps that may be required – or actions not required by certain situations or disciplines – and to ensure that processes and policies are adequately documented.
Click on the model to find out more about specific steps or download The Curation Lifecycle Model or The Entire Guide
from Gestión de conocimiento | Scoop.it http://www.scoop.it/t/gestion-de-conocimiento/p/1211176668/dcc-curation-lifecycle-model-digitalcuration